SCC RUGBY ACADEMY ONLINE STORE
We are a leading junior rugby club in Singapore and train Saturday (rugby) and Sunday mornings (touch and girls contact) at the SCC Rugby Academy ground at Dempsey.
We welcome experienced and new players from the local Singapore community and the expatriate community. In fact, our players attend around 100 schools across the island!
This is reflected in our coaching team, a diverse mix of qualified coaches from all around the world.
You do NOT need to be a member of the Singapore Cricket Club to join the SCC Rugby Academy.
Place your order using the secure online platform.
Any questions relating to the items, please contact our kit partner (Paladin Sports) on either the chat or via email (shop@paladinsports.com).
Each Monday Morning all the SCC  orders are picked and each order is packed in a clearly labeled bag. One order per bag.
Then all orders are bundled up together and sent to SCC for distribution on Saturday at training.
Should something be wrong, a size incorrect or something amiss - no drama. 
Just let us know (shop@paladinsports.com) and we will get a solution for you.
FREQUENTLY ASKED QUESTIONS
We have teamed up with Paladin Sports who warehouse the kit on our behalf. This greatly reduced our volunteer workload, allows us to hold stock without it being on our books and means that we do not have to find somewhere to store the items.
All orders are processed on a Monday morning by the Paladin team. All orders are then sent express post to the SCC Gear Manager for pickup at training on the weekend.
So - order placed by midnight Sunday = pickup at training the following weekend.
In short to cover costs. 
We have kept postage charges to a minimum to cover postage from the Paladin warehouse in Sydney to Dempsey.
This charge covers Pick and Pack as well as all satchels, etc.
Yes - no problem, but it does cost more. To select the ship to home option, simply change the shipping method to be "Standard SG Shipping" - please below.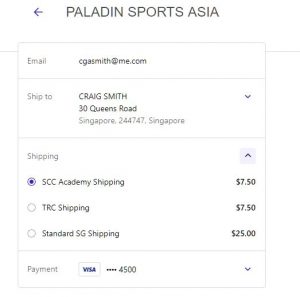 Any queries on this, please just reach out to Paladin
We offer a one for one exchange. If we have stock on hand (at the fields) then we can swap on the spot. Otherwise we will ensure that we will have the item available the following weekend. 
Should it be urgent - please contact Paladin Support and they will help you. shop@paladinsports.com
The origin of "Doc" Antle's name is a complicated one. He was born in Arizona in 1960 and Mahamayavi Bhagavan was the Hindu name given to him at birth from his mother who "nurtured an interest in Eastern philosophy," as told via Rolling Stone in 2015.
Another 2001 article in Nashville Scene revealed even more. When Antle moved to Southern California, he went by the name "Kevin," because kids had "difficulty pronouncing his unusual name"
Some fans want to know how Antle earned the name "Doc" and if he's a legitimate doctor in the medical field. As told in the docuseries, he's a doctor of mystical science.
The details have more to do with what and where Antle studied to get that moniker, according to multiple outlets. After dropping out of high school, "Doc" studied abroad in China. Antle earned a doctoral degree in Chinese Medicine after years in the field.